Making the most of the sunshine the children enjoyed Bikeability today!
The whole school listened attentively to Laura from Living Streets and were thrilled to meet Strider!
May 4th -Dr Bike came in to check and repair lots of bikes today
The PCSOs came into school today and talked to us about ways to keep safe on the roads when we walk, scoot or cycle.
Aimee-Claire came in to deliver an assembly about the importance of active travel: saving the planet, saving money and making you healthier! Aimee also stressed the importance of being bright, seen and safe when it is dark!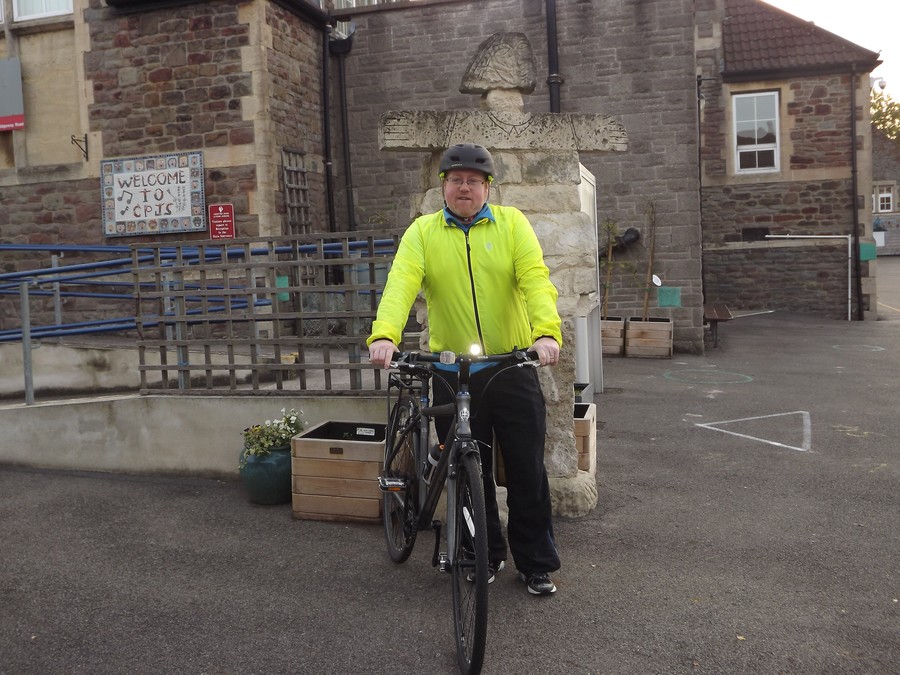 The children regularly see Mike McNama our head teacher cycling to school: He shows just how important it is to be seen and be safe!
Continuing our commitment to safer travel , we are delighted that a total of 24 children completed their level 1 training in September and 20 their level 2 in October. As you will remember we were the first school to achieve the Bronze Mode Shift Stars award thanks to the hard work of Mrs Ellis: Now we are looking to achieve the highly coveted Silver award and as part of this there will be more exciting biking activities in the near future– watch this space!
Year 3 counted the volume of cars, lorries, vans and other traffic then created bar charts with their data.
September 2016
Such an exciting start to term 1, including Bike checks in the sunshine today as part of our ongoing Bikeability training.
Ian from Sustrans proudly awarded the Bronze Mode Shift Stars National School Travel Award to our school travel Ambassadors today. We are the first school to receive this prestigious cycling award. Well done to Mrs Ellis for her hard work in making this happen. Throughout the day children took part in several different activities, ranging from obstacle courses, painting to smoothie workshops.
Chester Park Junior School is now an Active Travel school! My name is Ian and I am your schools Active Travel Officer.
What is Active Travel?
Active Travel a project that aims to get more people walking, cycling and scooting to school – essentially trying to reduce the amount of motorised trips we do each day. I work for the sustainable transport charity called Sustrans and Bristol City Council.
Over the next three years we will be working with your school to promote active travel by organising promotional activities, lessons and events to encourage pupils and adults to travel actively
What's been going on?
'Be Bright Assembly' and after school 'High Viz Sale' on Friday 23rd Nov.
Be Bright/ Be Active Day on Friday 23rd Nov –students brightened up their school uniform/coat with their brightest accessories (think shiny vests, pink laces, foil bracelets etc) – there were prizes for best dressed.
Year 6- Speed Gun training- children estimated the speed at which traffic was travelling and then using the speed gun accurately measured it. They also looked at things which distract drivers and may make them less safe on the roads.
Year 4 and 5 -Trailblazing- these children looked at the area around our school, learning about road signs and observing potentially bad behaviour such as parking on double yellow lines. They also counted parked cars, observing several left inconsiderately and illegally on double yellow lines.
Year 4 Training 23rd November 2012