BMX at Lawrence Weston has been a real success!
September 2018 BMX time at Chester Park Junior School
Modeshift Stars Celebration Event- Swindon Steam Museum 21st November 2017
November 2017
From Edie- Class Active Travel rep:
"Mode Shift is a company that encourages children to walk, cycle, scoot and park and stride to school. We decided to get involved at CPJS and were one of over three thousand schools to be part of the initiative. Doing the Mode Shift programme is really good because it encourages people to walk to school rather than drive. It's helpful in lots of ways, including making people fitter, healthier and safer. We don't want lots of cars driving at the front of the school because there are lots of children. We will be making our school even safer by asking parents to make a Parking Pledge.
Mode Shift have awards called 'Stars' which children achieve through walking to school a certain number of times. We track how all CPJS children are getting to school with the Travel Tracker. I'm in Year 6 and I go around after lunch every day with an ipad logging everyone's mode of transport to school. If you walk twice a week, every week for a month, you get a badge. We can collect eleven badges over the year. So far, I've got two but I am aiming for all eleven.
We were nominated for the Mode Shift most active school in the region award. So we went to the award ceremony on the 21st November in Swindon! We arrived to find a lot less schools than we thought would be there. It's amazing to think that in the South-West, we are one of only nine schools who were nominated for this award. The event was much more exciting than expected, and the person hosting it was very funny, and knew how to entertain kids. We started with a few games to get to know each other, then went on to enter a fun competition where we designed comics.
After lunch, we did some acting and then heard the results. Unfortunately, we didn't win but it was a very fun experience!"
Chester Park Junior School's Parking Pledge
Click here to download a copy of this form
I/We agree to:
Walk to school whenever possible, including parking further from the school and walking the last bit of the journey (Park and Stride).
Never park, drop off or pick up across the yellow zig zag lines – this is illegal and dangerous.
Not park on the pavement.
Not block residents' drives – helping us to be excellent neighbours to local residents.
Never park, drop off or pick up inside or across the school entrance.
Never park, drop off or pick up inside or across the private driveway next to the school – helping us to be excellent neighbours to local residents.
Set an example by being polite and courteous to staff, children, other parents and other members of the public.
We would like to take this opportunity to personally thank all those parents who do commit to helping to keep our children safe on their journeys to and from school.
……………………………………………………………………………………………………………………………………..
Chester Park Junior School's Parking Pledge
REPLY SLIP
Parking Pledge:
I/We agree to support Chester Park Junior School to make our roads safer.
Child's Name: _________________________________ Class: ____________
Parent / Carer's name: _____________________________________
Signed: __________________________________________________
Making the most of the sunshine the children enjoyed Bikeability today!
Active Travel Update- November 2017
We are incredibly proud to tell you that Chester Park Junior School has been nominated by Bristol City Council and the National STARS School Travel Awards team, for an award for the outstanding work done to encourage more young people to walk, cycle and use other forms of sustainable travel to get to school. Bristol City Council wrote: "Please allow us to congratulate you on your nomination, over 3,000 schools nationally are signed up to STARS so you can now consider yourself to be amongst the very best of them. "
Mrs Ellis, Mrs Morley and 3 children have been invited to the Steam Museum in Swindon along with other nominated schools on the 21st November, to share best practice and find out who has won the winning title of Best School In The Authority and Overall Regional Winner! We will keep you posted . Thank you to Mrs Ellis for your continued commitment!
The whole school listened attentively to Laura from Living Streets and were thrilled to meet Strider!
May 4th -Dr Bike came in to check and repair lots of bikes today
The PCSOs came into school today and talked to us about ways to keep safe on the roads when we walk, scoot or cycle.
Aimee-Claire came in to deliver an assembly about the importance of active travel: saving the planet, saving money and making you healthier! Aimee also stressed the importance of being bright, seen and safe when it is dark!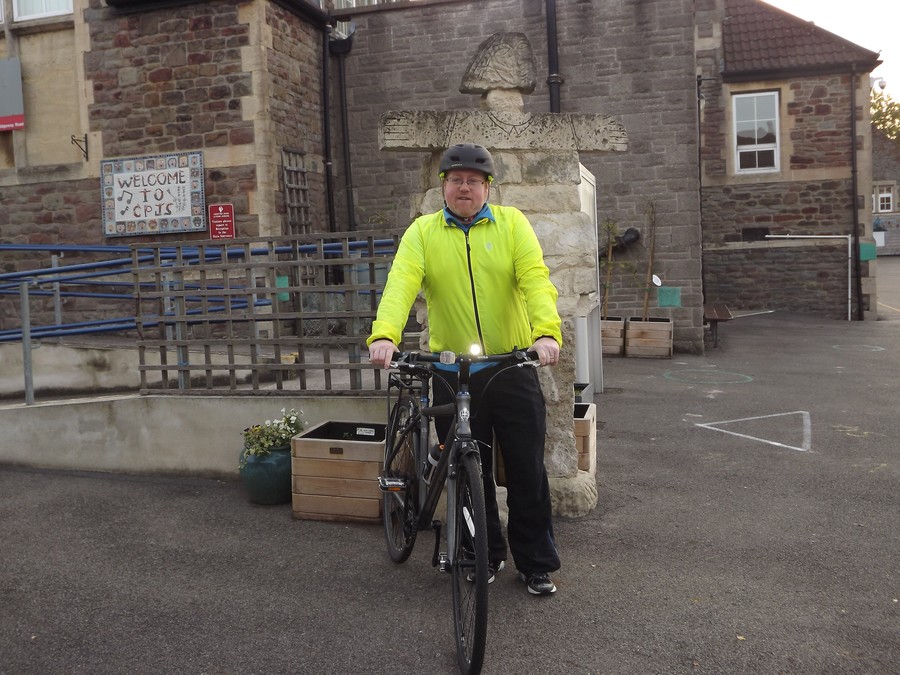 The children regularly see Mike McNama our head teacher cycling to school: He shows just how important it is to be seen and be safe!
Continuing our commitment to safer travel , we are delighted that a total of 24 children completed their level 1 training in September and 20 their level 2 in October. As you will remember we were the first school to achieve the Bronze Mode Shift Stars award thanks to the hard work of Mrs Ellis: Now we are looking to achieve the highly coveted Silver award and as part of this there will be more exciting biking activities in the near future– watch this space!
Year 3 counted the volume of cars, lorries, vans and other traffic then created bar charts with their data.
September 2016
Such an exciting start to term 1, including Bike checks in the sunshine today as part of our ongoing Bikeability training.
Ian from Sustrans proudly awarded the Bronze Mode Shift Stars National School Travel Award to our school travel Ambassadors today. We are the first school to receive this prestigious cycling award. Well done to Mrs Ellis for her hard work in making this happen. Throughout the day children took part in several different activities, ranging from obstacle courses, painting to smoothie workshops.
Chester Park Junior School is now an Active Travel school! My name is Ian and I am your schools Active Travel Officer.
What is Active Travel?
Active Travel a project that aims to get more people walking, cycling and scooting to school – essentially trying to reduce the amount of motorised trips we do each day. I work for the sustainable transport charity called Sustrans and Bristol City Council.
Over the next three years we will be working with your school to promote active travel by organising promotional activities, lessons and events to encourage pupils and adults to travel actively